S50 Solar Energizer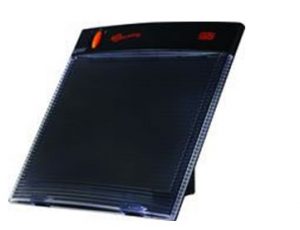 Features
The S50 Solar Energizer Delivers effective power for the control of domestic animals for small fence applications.

Ideal for safely controlling animals around your property or farm.

Ideal for strip grazing and protecting gardens from domestic animals.
Powers up to 2 km of multi-strand electric fencing. A realistic value for South African conditions will be 400-600 meters of multi-strand electric fencing.
Designed to operate outdoors.
Fully self sufficient using solar power to charge an internal battery. No external power supply required.
The S50 automatically runs at night mode (pulse rate lengthened) while domestic animals are more subdued. This feature will extend battery life and maintain good voltage on the fence during daylight hours.
Can be mounted on a wall, on a wooden or steel post or can be placed on the ground, giving the user the ability to use the unit for permanent or portable fencing.
Large rotary dial makes simple for switching the unit on or off and identifying if the unit is on or not from a distance.
Impact resistant plastic lens helps protect the solar panel and prolonging its life in operation. Cleaning the lens regularly will help the energizer run more effectively.
LED light flashes with each pulse to help indicate that the unit is working.
Internal 12V 12AH rechargeable battery included.
S50 Technical Specifications
Fence Distance : Km
2 Km
Fence Distance – Realistic
400-600 Meters
Distance Powered : Hectares
3 Ha
Input Voltage
12v
Maximum Stored Energy
0.50 Joules
Maximum Output Energy
0.35 Joule
Output Voltage @ 500 Ω
3,300 Volts
Output Voltage @ 100 Ω
1,000 Volts
Minimum number of earth rods required
1 Earth Rod
Physical Details
Weight : kilograms
6 kg
Volume : Metric
430 x 460mm