B180 Energizer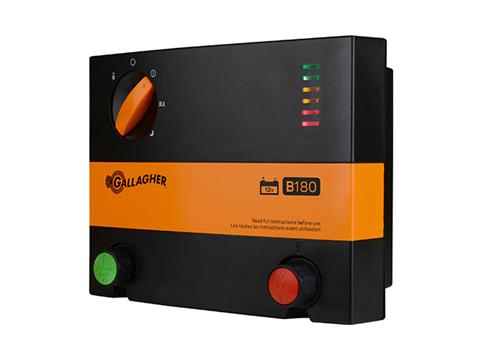 Features
The B180 Energizer Delivers effective power for the control of domestic and wildlife animals for small fence applications.
Multi power option – can be run on mains or battery power. Mains power adapter included
Powers up to 4 km of multi-strand electric fencing. A realistic value for South African conditions will be 600m-1,1 km of multi-strand electric fencing.
Quick scan output voltage bar graph indicates the output voltage at the energizer at a glance. The bar graph display shows red when heavily loaded.
Bar graph can be used to indicate battery capacity.
Fully modular design that requires no fasteners providing easier access for servicing or module replacement.
Split bolt recessed terminals with wire guide for simple and clean installation.
Surface mount technology that delivers superior quality.
Built-in battery save features to extend the life of your battery.
Easy to use five stage rotary dial to change energizer operating functions.
B180 Technical Specifications
Fence Distance : Km
4 Km
Fence Distance – Realistic
600m-1,1 Km
Distance Powered : Hectares
10 Ha
Input Voltage
12v
Maximum Stored Energy
1.8 Joules
Maximum Output Energy
1.3 Joule
Output Voltage @ 500 Ω
5,000 Volts
Output Voltage @ 100 Ω
1,700 Volts
Minimum number of earth rods required
1 Earth Rod
Physical Details
Weight : kilograms
1,5 kg
Volume : Metric
205 x 160mm