B1600 Energizer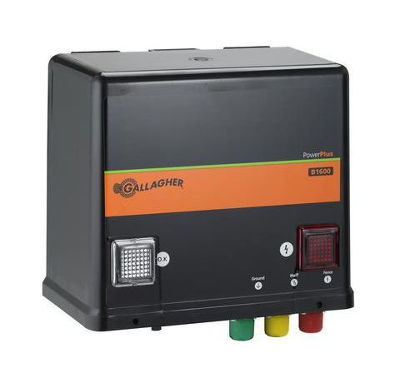 Features
B1600 Energizer Delivers maximum power for the control of domestic and wildlife animals for small to medium fence applications.
Powers up to 15 km of multi-strand electric fencing. A realistic value for South African conditions will be 5-7 km of multi-strand electric fencing.
Adjustable output settings, low, medium and high power.
Most powerful battery energizer in its class (16 Joule stored energy) with good battery consumption. Only uses 1,200 milliamps on high power mode.
Green "OK" light on when the energizer is working satisfactorily.
Red fence light flashes with each output pulse at approximately 2kV and above and will indicate fence condition. If the energizer is overloaded the indicator will either flash intermittently or not at all.
Low energy terminal (yellow) for use around buildings, houses and sensitive animals.
Fully modular for quick servicing.
B1600 Technical Specifications
Fence Distance : Km
15 Km
Fence Distance – Realistic
5-7 Km
Distance Powered : Hectares
60 Ha
Input Voltage
12v, 24v or 36v
Maximum Stored Energy
16 Joules
Maximum Output Energy
11 Joules
Output Voltage @ 500 Ω
8,200 Volts
Output Voltage @ 200 Ω
5,500 Volts
Output Voltage @ 100 Ω
4,000 Volts
Minimum number of earth rods required
5 Earth Rods
Physical Details
Weight : kilograms
3,1 kg
Volume : Metric
220 x 210 x 110mm